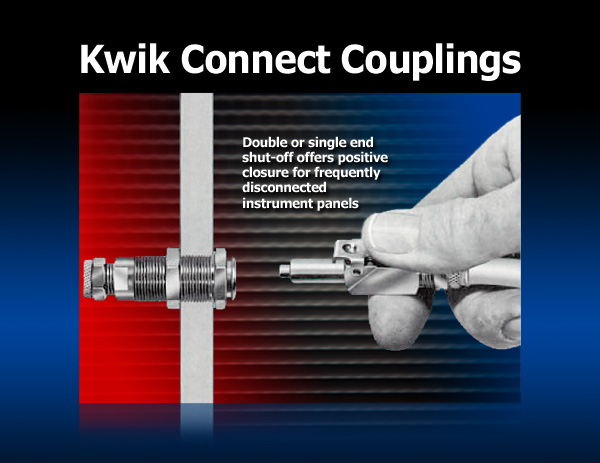 SIZE RANGE:

MAXIMUM WORKING
PRESSURE:

MATERIALS:

COMPATIBLE
TUBING:
Tube 1/4" & 3/8" O.D.
Pipe Thread 3/8" & 1/4" NPTF
100 psi with Polyehylene tubing
300 psi with lmpolene tubing
500 psi with soft copper tubing (with 260-UB metal sleeve)
Nickel plated bodies or type 316 stainless steel bodies and nuts
Acetal copolymer sleeves (Celcon ®)
Polyethylene, Polypropylene, Nylon, Polyvinyl Chloride, Polyallomer.
Soft Copper.
MAINTAIN A SEALED SYSTEM AND ELIMINATE EXTRA VALVING

Kwik-Connect couplings witn Poly-Type ends provide positiveflow shut-off when coupling is disconnected...without extra valving. Available in both single and double end shut-ott.

PULL-IT'S DISCONNECTED.
JUST PRESS CLIP AND THE COUPLING
SPRINGS OPEN.



PUSH—IT'S CONNECTED.
COUPLING SNAPS TOGETHER,
PERMITTING FLOW IN EITHER DIRECTION.

PROVIDES SINGLE POSITIVE OPERATION

Unique cam action automatically moves the locking clip and locks the coupling in an open flow position when the two sections are pushed together. Flow is in either direction. To uncouple, press the locking clip and pull apart. This action disconnects the coupling and instantly seals off the flow.
AVAILABLE IN A WIDE VARIETY OF STYLES

Kwik-Connect couplings are readily available in tube to tube and tube to pipe thread styles with either double or single end shut-off.

HOW FURNISHED

A two piece coupler with Poly-Type tube ends. Available in single and double end shut-off.

MATERIALS:



Bodies and Nuts:
Sleeves:
Springs:
0-Rings:
Nickel plated bodies or type 316 stainless steel
Acetal copolymer (Celcon)
Stainless steel on all couplings
Buna-N on brass couplings Viton on stainless steel couplings

PIPE THREADS:

Long length Dryseal American (National) Standard Taper pipe threads.

ORDERING INFORMATION:

Determine type of shut-off required (single or double end). Select end connection. Specify catalog number for configuration and size desired.

EXAMPLE:

To order a double end shut-off, Poly-Type to male Pipe Thread, stainless steel 1/4" tube O.D. x 1/4" pipe thread, specify:

298-PSSD-04x04